Laser Cutting
Our utilization of Fibre Laser cutting technology allows for the precision cutting of various metals, including Copper and Aluminum, without the need for specialised tooling. This capability enables us to manufacture complex busbars and motor laminations, which are widely utilized in the expanding hybrid and electric vehicle market, as well as precision components for  industries such as renewable energy and research.
Our recent acquisition of a state-of-the-art Trumpf 3030 laser has further enhanced our capabilities in these areas.
Our experienced team is equipped to collaborate with designers to ensure the most efficient production process possible,
Laser Cutting benefits include:
Our Fiber Laser cutting technology offers unparalleled flexibility in terms of sheet thickness, with the ability to cut up to 25mm. Additionally, it allows for seamless processing of sheets with film coating without vaporizing. We are able to work with a wide range of materials, including Copper- up to 8mm, Aluminum- up to 20mm, Mild Steel- up to 25mm, Stainless Steel up to 20mm, and Brass – up to 8mm.
In terms of productivity, our cutting strategy employs a single cutting head with collision protection, resulting in minimized downtime and increased machine dynamics due to direct drive. Additionally, the TruDisk solid-state laser provides a productivity advantage with thin sheets, and intelligent functions ensure high throughput and process reliability.
Quality and tolerances are of the utmost importance to us, which is why we have chosen to invest in Fiber Laser over the more common CO2 laser. As a naturally precise and accurate profiling machine, a Fiber Laser guarantees the best in profiling services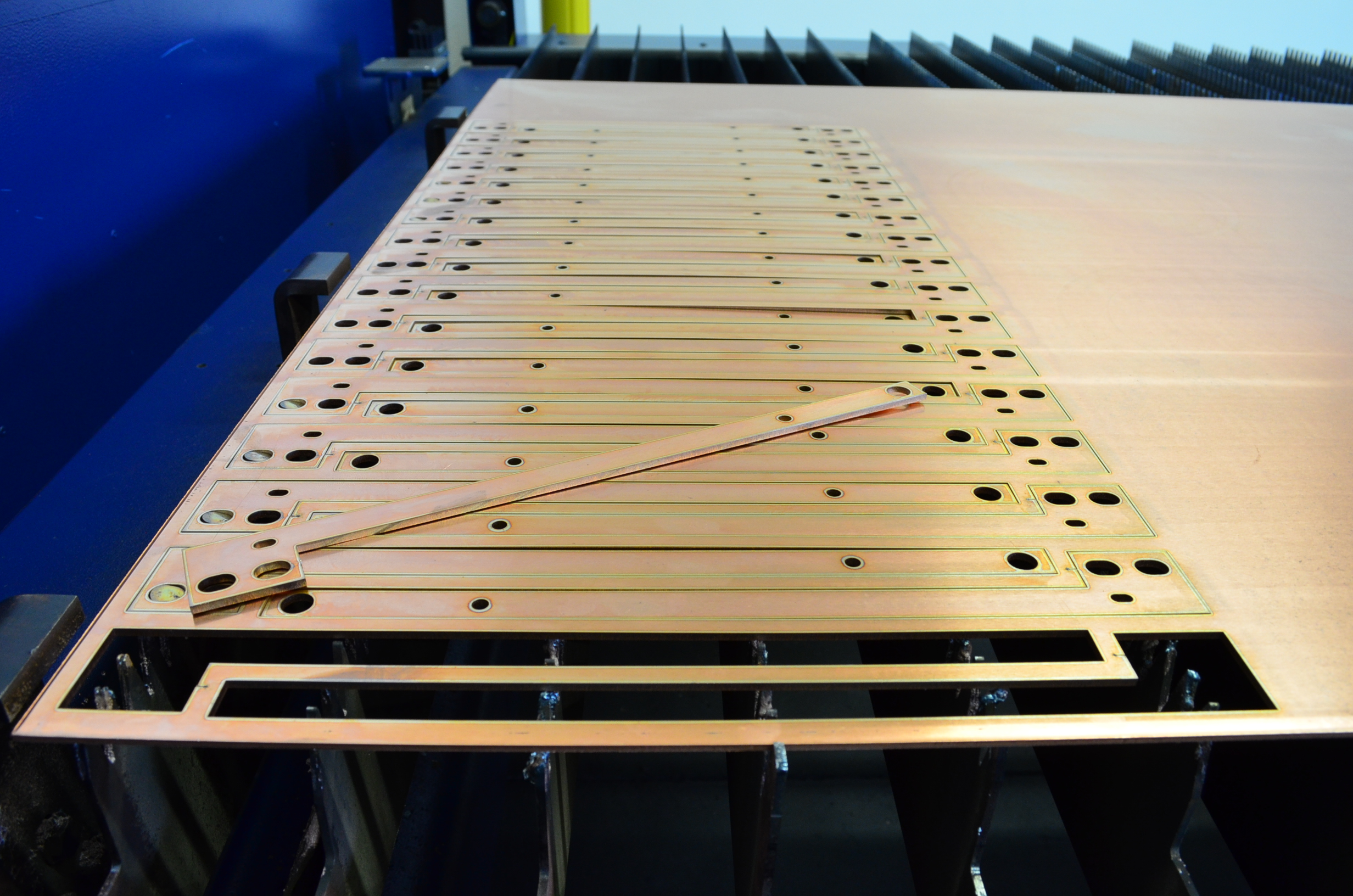 Fibre Laser Cutting Copper
Traditionally, cutting delicate materials such as copper and brass using CO2 laser technology was a challenging task due to their reflective properties. With the advent of our latest fiber laser cutting technology, we have overcome this obstacle and are now able to laser cut copper with thicknesses ranging from 0.2mm to 8mm.
This state-of-the-art investment, coupled with advanced deburring equipment and in-house electroplating capabilities, allows us to produce highly accurate parts and sub-assemblies. In today's competitive marketplace, quick turnaround times, flexibility, and exceptional quality are of paramount importance. To meet these demands, we have also invested in a comprehensive range of materials to ensure we can support our customers' needs promptly
High Performance Motor Lamination Manufacture
HV Wooding has developed technologies to cut thin gauge high performance laminations from coated electrical steels to customer specification. High accuracy – low burr.
Laser cut motor laminations can be bonded into core packs – read more on our Laminations page.
You can view our latest Plant List here.
Find out more:
To explore how we could make a difference to your organisation, contact us for a free assessment of potential opportunities.
Laser Cutting is typically used in these sectors:
Related articles and news