Laser Cutting Copper and Aluminum specialists
Fibre Laser cutting enables us to cut free-form shapes without the need for tooling from a variety of metals – in materials including Copper and Aluminum.  We are able to  produce complex busbars used extensively in battery packs within the growing hybrid & electric vehicle market as well as motor laminations and precision components to sectors including renewable and research sectors.
Our recent investment in a new Trumpf 3030 laser has expanded our work even further in these areas.
Laser cutting copper is a key area of our work and our skilled team can work with your designers to ensure optimum production.
Our Laser Cutting benefits include:
Flexibility- Sheet thicknesses of up to 25 mm can be cut, Problem-free processing of sheets with film coating without vaporising and a greater variety of material processing including Laser cutting Copper- up to 8mm, Aluminum- up to 20mm,  Mild Steel- up to 25mm, Stainless Steel up to 20mm and Brass – up to 8mm.
Productivity- The one-cutting-head strategy with collision protection resulting in minimised downtimes, higher machine dynamics due to direct drive, productivity advantage with thin sheets thanks to the TruDisk solid-state laser alongside high throughput and high process reliability due to intelligent functions.
Quality and Tolerances- Lasers are naturally an extremely precise and accurate profiling machine, however, we have decided to guarantee the best in profiling services by investing in a Fibre Laser over the more common Co2 laser.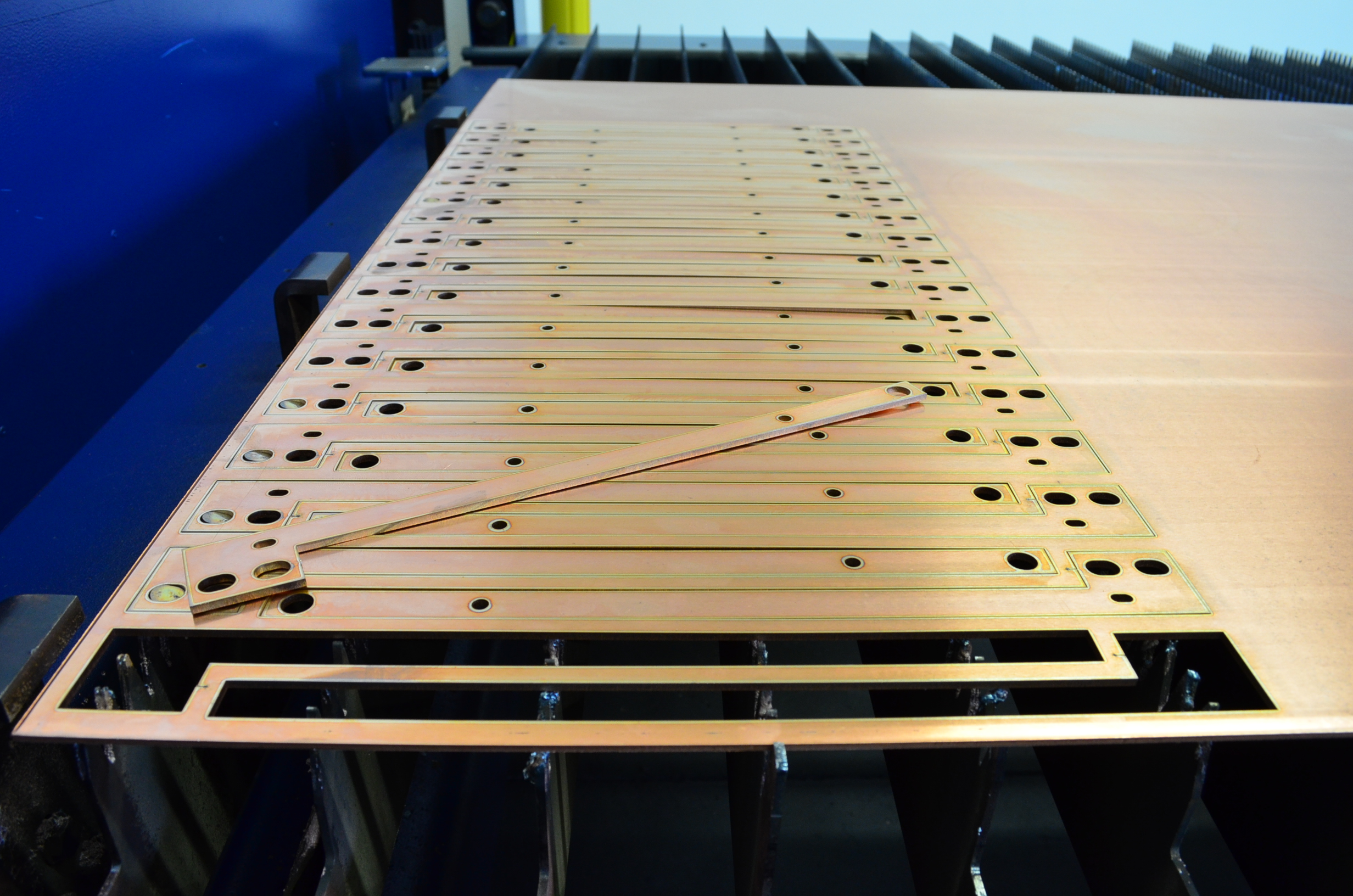 Fibre Laser Cutting Copper
Owing to their reflective properties, laser cutting copper and other delicate materials, such as brass, was a difficult process using CO2 technology. Our latest fibre laser cutting technology has progressed to having capabilities to laser cut copper from 0.2mm up to 8mm in thickness.
This state of the art investment together with enhanced deburring equipment and our in house Electroplating enables us to produce accurate parts and sub-assemblies. Today's demanding marketplace requires short lead times, flexibility and the highest level of quality.  We complement this technology with a comprehensive range of materials in stock to ensure we are able to support our customers needs.
High Performance Motor Lamination Manufacture
HV Wooding has developed technologies to cut thin gauge high performance laminations from coated electrical steels to customer specification. High accuracy – low burr.
Laser cut motor laminations can be bonded into core packs – read more on our Laminations page.
You can view our latest Plant List here.
Find out more:
To explore how we could make a difference to your organisation, contact us for a free assessment of potential opportunities.
Laser Cutting is typically used in these sectors:
Related articles and news