British engineering firms were called on to switch to making medical ventilators as concern grew about the effects of the coronavirus pandemic.  This follows an appeal by Boris Johnson, who held an emergency conference appealing for an urgent effort to address the national shortage.
Challenges 
Manufacture samples of 3 Ventilator components within 2 days.
Communication with Rolls-Royce on the requirements and quality approval for the Smiths Medical Ventilator (No face to face).
Meet demanding requirements to ensure high quality standards and tight lead-times.
Solutions
Prioritise this business through sample/initial submission phase.
Establish supply chain for PEM and special purpose inserts.
Project manage through daily video calls.
Collection of inserts from Portsmouth Hoverport
Prioritise production with overtime/weekend working
Contact CMM program for in process inspection (share data for approval).
Impacts 
Prototypes/samples for testing and setting up production line in 2 days
Received volume production order for 2000 parts for urgent delivery.
Supplied product in deliveries over 2 – 4 weeks (Quality approved).
Supported product of Ventilators at Smiths Medical/Rolls-Royce.
Added Value
Provided an alternative supply chain for critical Ventilator components achieving 100% conformity.
Gained fast track approval with high level project management with no face to face meetings in an incredibly short timeframe.
Supported other areas of the Ventilator UK supply chain with technical requirements based on lessons learnt during ramp up.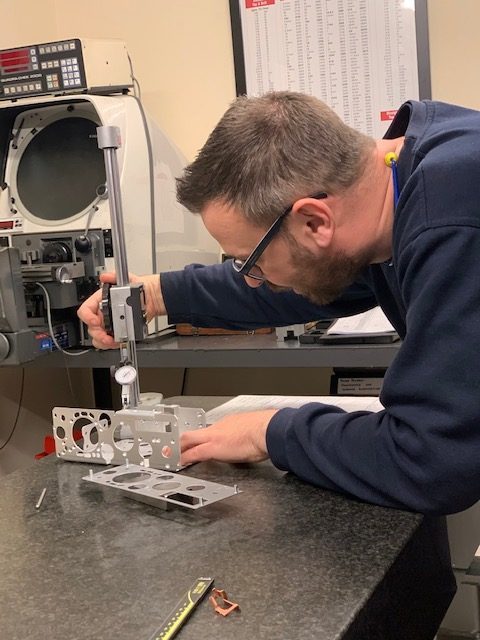 Our Technical Manager, Simon Stewart checking the vital ventilator components for compliance.
Read more about our Quality checks.