High-quality Busbar manufacturer with flexible short lead-time service
We manufacture copper and aluminium busbars for switchgear components, control panels, panel boards, fuse gear, and transformers.
A leading UK manufacturer, our scope of manufacturing techniques enable us to produce a huge variety of bespoke, customised busbars to specification. This includes major projects incorporating thousands of variants, to single part demand with little or zero tooling costs.
Combining the expertise of our technical team with state-of-the-art equipment and a customer-centric approach, we deliver superior specification products to a variety of sectors.
Quality is key. As a leader in British Manufacturing, H V Wooding are a fully accredited JOSCAR supplier, accredited to ISO9001:2015 OHAS 18001 and 14001:2015. We are members of the SMMT, the Confederation of British Metal Forming, British Safety Council and Fit for Nuclear.
Copper Busbars
A leading busbar manufacturer,  we have the most advanced manufacturing equipment available and can offer exceptionally high levels of delivery performance.
We have many years' experience of inheriting the production of copper busbars from large OEMs (component transfer) and offer a very rapid response service, even with short lead-times using state-of-the-art EHRT Punching & Forming Machines.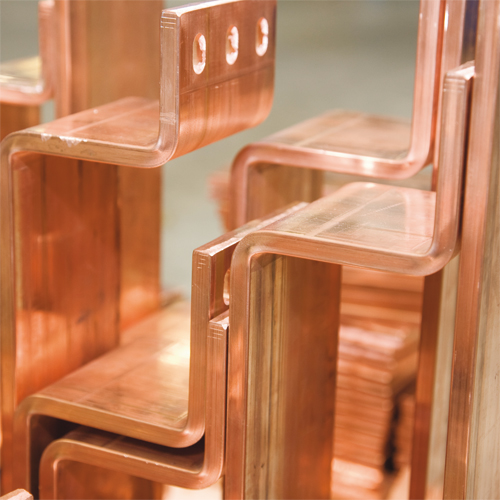 Flexible yet tough, with excellent conductivity properties, copper is a popular choice of metal used for construction, power generation and the manufacture of electrical components such as wiring and laminated busbars.
Durable and strong, copper will last for years without losing its performance capabilities. It can withstand short circuit electrical currents and the high pressure of thermal applications and there's less risk of mechanical damage.
Copper is also a soft and flexible metal, making it easy to work with, allowing it to be moulded and formed into any shape.
It has good corrosion resistance to environmental factors such as air, salt and water. These properties make it one of the most durable and mechanically strong metals there is.
Copper is one of the most efficient and reliable metals used in industry today. Some weaker metals suffer from 'creep', meaning they gradually deform under constant stress over time. This can occur around connecting points and can lead to overheating and fire risks. Another problem with some other metals is fatigue failure: when constant vibrations during the manufacturing process can result in scratches and dents to the surface of the metal. Copper is creep resistant and will not deform or dent, making it a safer metal to use in electrical manufacturing. Its durability and superior performance makes it a cost effective metal to use for precision engineering components.
Due to its high electrical conductivity, copper effectively carries heat, limiting the amount of energy that is lost. This in turn, cuts down carbon emissions and energy costs.
Copper also has excellent thermal conductivity and heat transfer properties, so it is often used in solar water heating and air conditioning systems.
It is 100% recyclable and can be used over and over again without losing its quality or integrity. It is an incredibly compact metal and thin metal, saving space and reducing material wastage and production costs.
Aluminium Busbars
Aluminium is used for busbar production where final weight is a consideration. We have produced many millions of aluminium busbars for a great many applications including the power conversion, rail, marine and aerospace industries.
Aluminium busbars can be used for transformers and are often produced for electrical panel boards and distribution boards.
Flexible Busbars
Flexible Busbars are made by a unique endless loop system, they have many technical advantages over other styles of flexible Bars in their capability and performance. They are made from thin usually soft copper which is then wound and compressed to thickness to give the relevant cross-sectional area required to carry the desired current.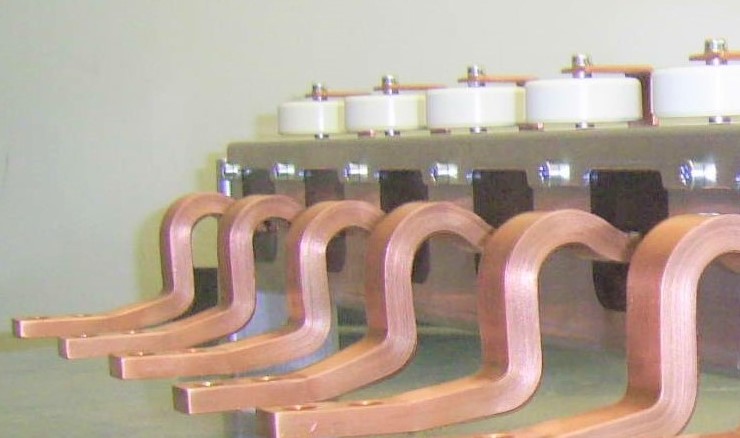 Value Added Busbar services
We offer busbar assembly services to complement our inhouse production.
Insulated Busbars –  services include powder coating / epoxy coating,  heat shrink sleeving and electroplating in tin, silver and nickel to suit your requirements.
Applications range from the use of polyolefin and PVC for 11KVA switchgear used within the energy and rail sectors to complex busbars for EV/Hybrid battery systems that are selectively coated with a range of insulation materials including resicoat EL HGC20R and Nylon BB for ratings of between 1.5 and 5KV.
Follow us on LinkedIn for the latest Busbar news! You can view our latest Plant List here.
Find out more:
To explore how we could make a difference to your organisation, contact us for a free assessment of potential opportunities.
Busbar Manufacture is typically used in these sectors: