Ventilator Challenge UK
HV Wooding are proud to be a part of the #VentilatorChallengeUK consortium. This consortium, alongside the likes of Airbus, BAE, Ford, Siemens and Rolls Royce are manufacturing vital ventilators to assist with the current pandemic – saving lives across the UK. So far we have offered the sourcing of Aluminium, offered Fibre laser cutting, machining, deburring, forming, PEM inserts, dispatch and delivery of components to assist in this urgent cause.
Click here to watch a news report on HV Wooding and their work during the pandemic.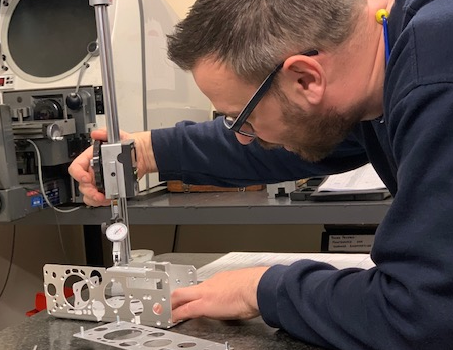 Being in the fortunate position of having experience in the production of components such as heater plates for humidifiers which are used on respiratory humidifiers used within the health sector, we had the technical expertise and supply chain in place to help in this national emergency and were pleased to be able to offer such assistance. The national effort is assisting in the production of thousands of ventilators to aid patients with breathing difficulties due to pneumonia from COVID-19.
Established for over 50 years, HV Wooding offers an unrivalled wealth of engineering resources, skills and experience with a team of 80 people over multi-sited facilities offering a comprehensive range of services around precision metal parts and assemblies encompassing everything from design assistance and prototyping through to the assembly and testing of finished products.