PAST EVENT: SMMT Regional Forum, Stadium of Light, 5 May 2022
H V Wooding are to exhibit at the SMMT Regional Forum North East.
This event provides a platform for discussion on the opportunities and challenges for the automotive industry in the region and regularly attracts 200+ senior automotive delegates, from a wide range of companies including vehicle manufacturers, global and local suppliers.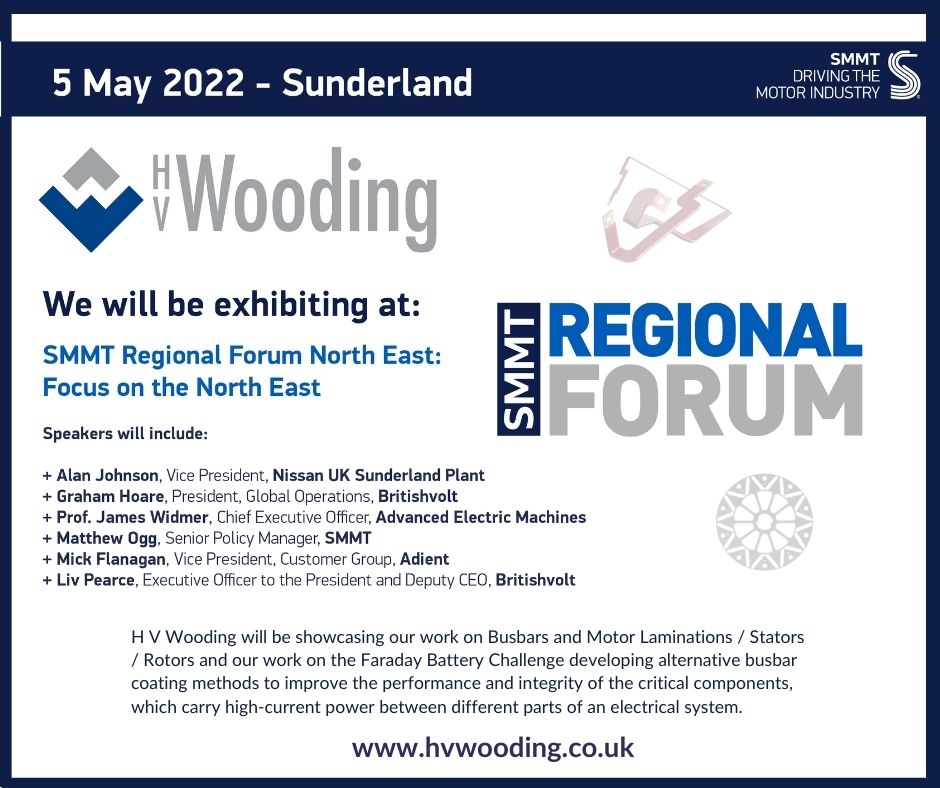 This is a must attend event for those looking to network with key contacts within the UK automotive industry.
The sessions will highlight how companies are responding to the challenge of net zero, levelling up opportunities and developing products and technologies that will secure the automotive footprint in the region.
Registration for this event is now open – click here to register.
What is the SMMT? 
The Society of Motor Manufacturers and Traders (SMMT) is one of the largest and most influential trade associations in the UK. Its resources, reputation and unrivalled automotive data place it at the heart of the UK automotive industry.
SMMT is the voice of the UK motor industry, supporting and promoting its members' interests, at home and abroad, to government, stakeholders and the media.
SMMT represents more than 800 automotive companies in the UK, providing them with a forum to voice their views on issues affecting the sector, helping to guide strategies and build positive relationships with government and regulatory authorities.
SMMT undertakes a wide variety of activities to support its wide membership base, helping them grow their businesses, become more profitable and improve their sustainability.
In addition to hosting member events, regularly producing industry reports and providing access to a wide range of industry data, SMMT also offers a wealth of services to its members.
Event update:
This was a fantastic, well attended event at an excellent venue. We made some excellent new contacts and spoke to a number of existing customers. It was amazing to hear the number of positive success stories in the North East region and beyond (I think we were from the furthest afield!). Some great speakers and an event well worth attending.