PAST EVENT: SMMT Electrified 2022
H V Wooding will be exhibiting at SMMT Electrified 2022.
Building on the success of the inaugural event this year, SMMT Electrified 2022 will focus on how industry, stakeholders and government can join forces to accelerate the transition to zero emission mobility.
The event will bring together 300 senior level representatives from automotive, charging infrastructure, battery supply chain, energy, fleets, logistics, government and consumer groups.
With automotive spearheading the charge towards Net Zero, our panels will explore progress from the perspective of mass market adoption, luxury and commercial vehicles, whilst investigating policy, infrastructure and energy challenges and looking from a national and international perspective.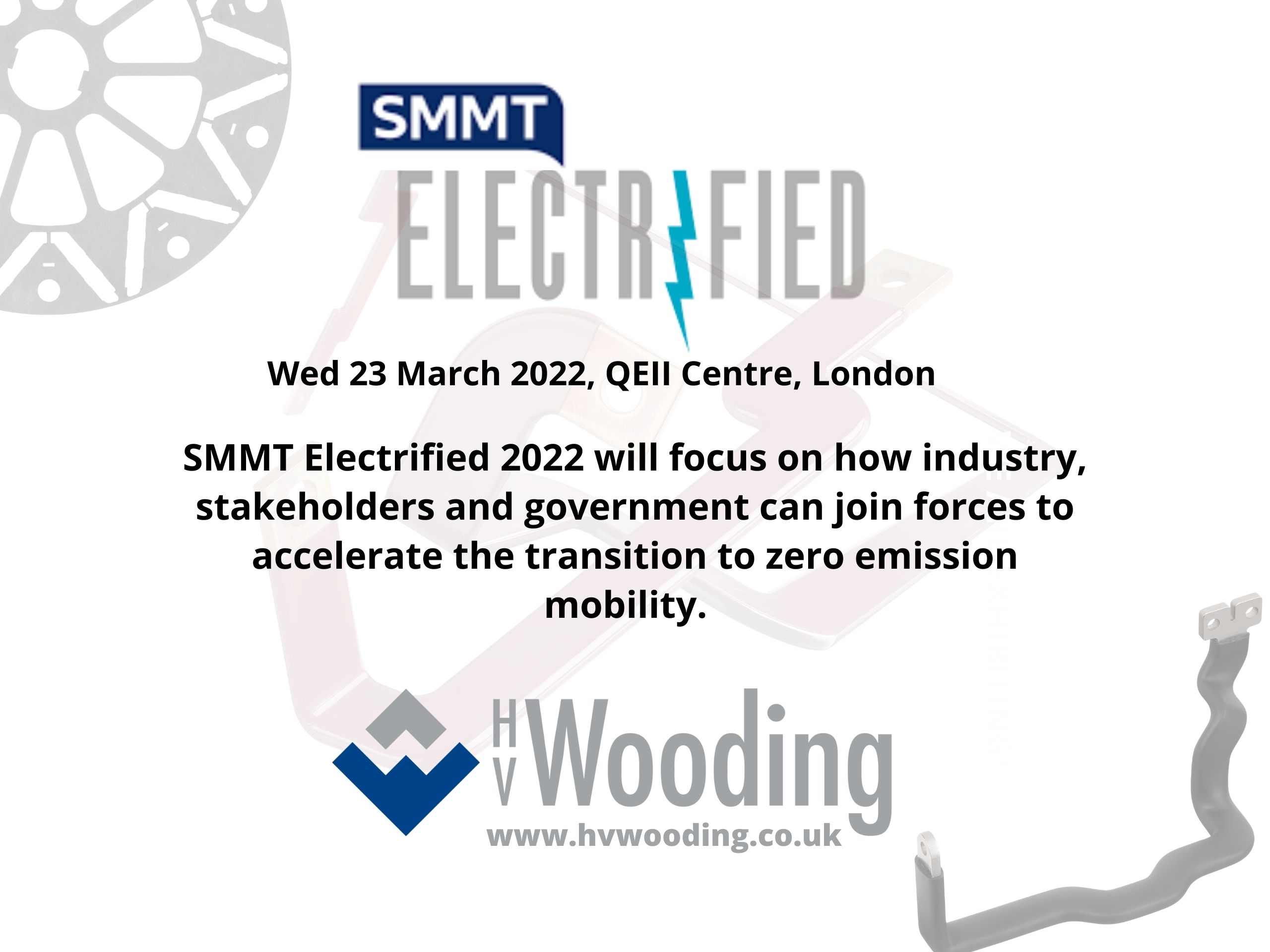 H V Wooding will be exhibiting at the conference – showcasing our work in the industry including our work with Motor Laminations stators and rotors, as well as our Busbars. We will discussing our technical expertise in the field including our work on the
Faraday Battery Challenge
, producing a new powder coating process for EV busbars.
What is the SMMT? 
The Society of Motor Manufacturers and Traders (SMMT) is one of the largest and most influential trade associations in the UK. Its resources, reputation and unrivalled automotive data place it at the heart of the UK automotive industry.
SMMT is the voice of the UK motor industry, supporting and promoting its members' interests, at home and abroad, to government, stakeholders and the media.
SMMT represents more than 800 automotive companies in the UK, providing them with a forum to voice their views on issues affecting the sector, helping to guide strategies and build positive relationships with government and regulatory authorities.
SMMT undertakes a wide variety of activities to support its wide membership base, helping them grow their businesses, become more profitable and improve their sustainability.
In addition to hosting member events, regularly producing industry reports and providing access to a wide range of industry data, SMMT also offers a wealth of services to its members.
Event update:
This was a fantastic, well attended event at an excellent venue. We made some excellent new contacts and spoke to a number of existing customers. It was amazing to hear the number of positive success stories in the North East region and beyond (I think we were from the furthest afield!). Some great speakers and an event well worth attending.